Katy Perry, Madonna & Justin Timberlake Are About To Go G-a-y!
Katy Perry holds on to UK number one single with 'Roar'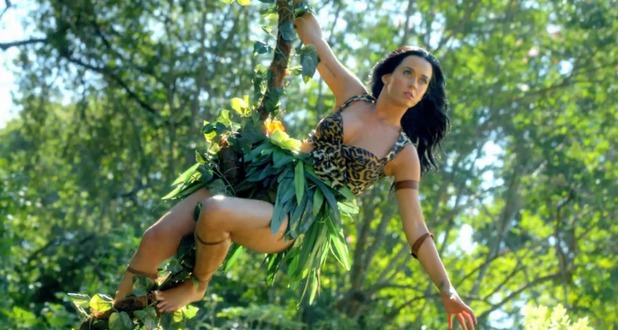 Katy Perry Katy Perry's new video "Roar" picked up almost 35 million views in just three days. 02. Pewdiepie Pewdiepie is still going strong, adding 66 million views on YouTube this week. 03. Eminem Eminem is back in the limelight, releasing new song "Berserk." The rapper had more than one million people talking about him on Facebook this week, as well as 34 million YouTube views. 04. One Direction 1D sent fans into a frenzy as they announced the release of their new album, "Midnight Memories," and had over 1.6 million people talking about them on Facebook. 05. Taylor Swift Rumors are surfacing that Taylor Swift's romance with Harry Styles has been rekindled and she has gained almost one million new fans across her networks. 06. Justin Bieber Beliebers were happy about Justin Bieber's return to his iconic hairstyle from the "Baby" days and look forward to new music in October after a tweet from Bieber that was retweeted over 100k times. 07. Shakira Shakira was talked about more than 3 million times on Facebook this week — her most popular post was a picture showing some of the singer's homegrown eggplants. 08. Ariana Grande The singer released the video for her single "Baby I," which has gained 1.5 million views and more than 88,000 likes.
Kelly Clarkson – 'Stronger (What Doesn't Kill You)' (Project 46 Radio Edit) 10. Danni Minogue Vs. Flower Power – 'You Won't Forget About Me' (Vocal Radio Edit) 11. Melanie C – 'I Turn To You' (Hex Hector Radio Mix) 12. Sugababes – 'Push The Button' (DJ Prom International Edit) 13. Christina Aguilera – 'Beautiful' (Peter Rauhofer Radio Edit) 14. Jennifer Lopez – 'Waiting For Tonight' (Hex's Momentous Radio Mix) 15. Celine Dion – 'My Heart Will Go On' (Tony Moran Mix) 16. Loreen – 'Euphoria' 17. Iggy Azalea – 'Bounce' (Danny Howard Remix) 18. Sam And The Womp – 'Bom Bom' (Radio Edit) 19. Ke$ha – 'We R Who We R' (Fred Falke Radio Mix) CD 3 1. Kylie Minogue – 'Better The Devil You Know' (The Mad March Hare Mix) 2. Cher – 'Believe' (Almighty Definitive Remix) 3. Spice Girls – 'Spice Up Your Life' (Morales Radio Mix) 4.
YouTube Katy Perry in 'Roar' music video OneRepublic leap 11 places to two with 'Counting Stars', making it their highest-charting single to date. 'Apologise' previously reached number three in 2007. Ellie Goulding slips one to three with 'Burn; , followed by Avicii's 'Wake Me Up' at four. Drake climbs a spot to five with 'Hold On We're Going Home' . Klangkarussell falls two to six with 'Sonnentanz (Sun Don't Shine)'. Lana Del Rey's Cedric Gervais remix of 'Summertime Sadness' is down to seven, while Miley Cyrus drops one to eight with 'We Can't Stop'. Macklemore and Ryan Lewis jump 11 places to nine with 'Same Love'. Lady Gaga dips two to ten with 'Applause'. WENN Coldplay's Chris Martin OneRepublic Coldplay achieve this week's highest new entry at 12 with 'Atlas', from the Hunger Games: Catching Fire soundtrack. Example lands one place behind at 13 with his latest single 'All The Wrong Places'. Manchester DJ Ben Pearce scores his debut Top 40 placing at 25 with 'What I Might Do'. Lethal Bizzle enters at 29 with 'Party Right'. Chris Brown and Nicki Minaj climb 18 places to 34 with their duet 'Love More'.