Russell Brand Booted From Gq Men Of The Year Awards Over Hugo Boss-nazi Link Jabs
Russell Brand: Don't blame Muslims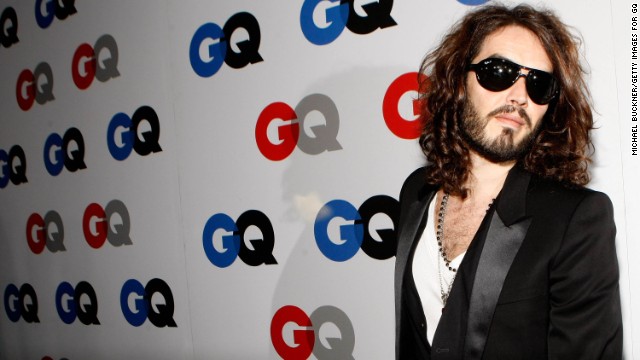 By Ethan Sacks / NEW YORK DAILY NEWS Thursday, September 5, 2013, 2:16 PM Comment David M. Benett/Getty Images If anyone knows a bit about history and fashion, you know it was Hugo Boss who made uniforms for the Nazis, Brand said. But they looked f—- amazing! Not everyone is amused by Russell Brand s humor. The British comic was booted from Tuesday nights GQ Men of the Year Awards after-party in London over a routine that slammed corporate sponsor Hugo Boss for its World War II-era ties to the Nazis. If anyone knows a bit about history and fashion, you know it was Hugo Boss, who made uniforms for the Nazis, Brand said of the German fashion house that paid $390,000 toward the event, according to Britains Daily Mirror. But they looked f—- amazing, let's face it, while they were killing people on the basis of their religion and sexuality." David M. Benett/Getty Images Russell Brand leaps from the stage at the GQ Men of the Year awards at Londons Royal Opera House Tuesday night, shortly after his routine slamming Hugo Boss for its Nazi ties. The 38-year-old Get Him to the Greek star, who took home an award at the event, punctuated his routine with some goosestepping. Brand was ejected from the party at the Royal Opera House shortly afterwards, Londons Sun reported. RELATED: RUSSELL BRAND JOKES ABOUT SEX WITH KATY PERRY IN STAND-UP SHOW Hugo Boss has in recent years tried to distance itself from its founding designers ties to Adolf Hitlers government as the official uniform supplier of Nazi forces. In 2011, the company publically expressed its profound regret to those who suffered harm or hardship at the factory run by Hugo Ferdinand Boss under National Socialist rule. David M. Benett/Getty Images Noel Gallagher, Rita Ora and Russell Brand arrive at the GQ Men of the Year awards at the Royal Opera House earlier in the evening. American actor Jeremy Piven, himself Jewish, poked fun at Brands antics when he presented an award later.
At last! He reveled in his fame. Shortly after telling a few jokes, he came down to strut through the crowd and talk to a few people. But on this tour Brand is purposely challenging his audiences, mixing a lot of philosophy and politics in with his jokes, and making fun of his own image. It is not often that Friedrich Nietzsches name is mentioned in a standup act, but Brand went on to explain the meaning of the philosophers often quoted phrase God is dead. He pointed out that 147 corporations own half the worlds wealth. And as a former heroin addict, he said that drug dependence should be treated as a health issue, not a legal one. File photo by Matt Hayward/Getty Images The fact that the hour and a half show is called Messiah Complex implies that Brand is struggling with his own celebrity and wondering about its value. He projected photos of himself on the large video screen at the back of the stage and the two screens on each side of it. The pictures he chose made him look foolish, and he went on to joke about them. To explain a few things he said, I looked in my brain, which has never been my ally. As he skewered advertising, he brought up Gillettes slogan that it was the best a man can get. Brand said that shaving was not the best a man can get, and brought up the example of two women on each side of him who would well, you get the idea. He showed his acting skills by recreating two people in the office of the U.K.s Daily Mail who were writing gossip. He recalled the factory overseas where workers who made Apple products were committing suicide by jumping out a window. The facility put up a net in response. Brand commented, Lets see. Did they increase wages?
Total People in Discussion: 0
(CNN) — This week on The Big Three we say bye bye to Michele Bachmann; comedian Russell Brand joins us (naked, apparently) to talk about his column condemning group-blame in the wake of the brutal beheading of a British soldier; and Dean and Margaret offer their take on a commencement address for the Class of 2013. First, one of the most polarizing figures in American politics decided not to run for re-election this week. I think I heard church bells ringing in reaction. Congresswoman Michele Bachmann was briefly an icon of the tea party movement and even pursued an ill-advised presidential campaign that resulted in numerous — and ongoing — ethics investigations. Bachmann used her 15 minutes of fame to divide and demagogue our national debates, routinely accusing opponents of being anti-American and parroting conspiracy theories from her congressional pulpit. Her frequently fact-free accusations made her a favorite on the far-right, but interestingly it is liberal Democrats like Dean who already think they're going to miss her the most, while Margaret sees her departure as a win for reforming the Republican Party. Russell Brand is best known as a British comedian and TV/film star, who, in addition to co-starring in the upcoming animated film "Despicable Me 2," is also a Solzhenitzyn-quoting, part-time essayist. In the wake of the barbaric beheading of a soldier in London, Brand wrote an essay in The Sun called "Blame this on madness…not Muslims." Big Three podcasters John Avlon, Margaret Hoover, Dean Obeidallah Click here to hear podcast Dean was particularly touched by the effort to defend the Muslim community from the ugly passions stirred by group blame. Brand's perspective is that mental illness is more at fault in the attack than the influence of radical Islam and that root causes must be analyzed, as well. While I agree with Brand's assertion that we can't let extremists determine the terms of debate for the rest of society, especially when their goal is to take us off center by inspiring further hate and distrust, I'm not convinced that taking troops out of Afghanistan would stop terrorism — and, unlike Brand, I think that evil exists. But it's a lively, thoughtful conversation — especially considering that Brand informed us afterward that he conducted it naked looking in a mirror. Which is a sideways segue to commemorating the end of another college year. Yes, its commencement address season and already words of wisdom are being dispensed on college campuses across the country by the likes of Stephen Colbert, President Obama and Wolf Blitzer. The millennial generation is coming of age and we debate whether the "everybody gets a trophy" ethos (plus the uphill economic climb) has left them well prepared for life after college. Dean orates a commencement address of his own, while Margaret and I dispense our advice (you have to be willing to work hard if you want to follow your bliss).